To expropriate (and edit) a line from an old Clint Eastwood "Dirty Harry" movie, "Do you want to change your life? Well do you?"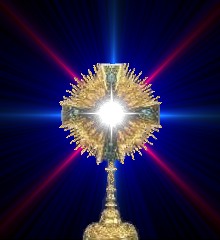 We probably all have an area or two in our lives that we'd like to transform, if only a little, but perhaps a lot. The good news is that we can, in fact, make those transformations in our lives simply by changing the way we spend
just one
, or a portion of one, of the 168 hours a week we're all given in this worldly life. All it involves is getting face to face with Our Lord in Eucharistic Adoration.
This last week at St. Francis Assisi in Castle Rock, we were blessed to have Fr. Lou Guardiola, C.P.M. conduct a parish mission on Eucharistic Adoration. Through a series of presentations over five days, he provided us a great deal of spiritual food for thought on the Holy Eucharist and Eucharistic Adoration. Due to weather and other factors, many weren't able to make it to all or some of the presentations. Others may have some unasked and therefore unanswered questions about Eucharistic Adoration.
What Is Eucharistic Adoration?
Simply put, it is spending time with Jesus—the Real Presence of Jesus—His body, blood soul and divinity.
Augustine Di Noia, O.P.
says, "During Eucharistic adoration, it is not only we who behold Christ, but it is also He who beholds us. When we adore the Blessed Sacrament, we are not just gazing at a beautiful but inert object."(1) Yes, God is everywhere and yes, we can talk to Him from anywhere, but He is PHYSICALLY present in the Blessed Sacrament. And as Father Lou reminds us, it was in His physical presence that Christ performed many miracles; it is in His physical presence in the Eucharist that He will perform many more for us if we ask Him. Furthermore, spending quality face time with our family or friends is something that we routinely do, or should be doing. Why wouldn't we want to spend some quality face time with Our Lord and Savior, (and Friend) as well?
How Does One "Do" Eucharistic Adoration?
In short—we need to just show up—go to the Blessed Sacrament and spend time with Our Lord.
BishopZubik, from Pittsburgh
, tells us, "There are many ways to pray. We may meditate silently by gazing on the sacred host. We may silently speak to Jesus from our mind and heart. We may also rely on devotions and prayers from Catholic tradition, such as the reading of Scripture, recitation of the Rosary, or the litanies." (2) In other words, there's no one "right" way to adore Jesus in His Real Presence. We each need to do what works for us.
When we spend face time with family and friends, we talk and we listen. That's a good idea for when we spend face time with Jesus as well—we want to be sure we sit quietly and listen, and avoid what one writer calls the "gimme" approach to prayer. Now, we shouldn't make a fuss if we don't hear a booming voice calling our name when we're listening for God to talk to us. Remember what the Bible tells us in 1 Kings: "…and after the earthquake a fire, but the LORD was not in the fire; and after the fire a still small voice…" (emphasis added) (3) The key is to spend some quality face time with Our Lord and to set aside some of it to just listen and see what He puts on our hearts. Even if we don't feel or hear God talking with us at the time, we need to know that He is there with us, loving us with His particular love for each of us and hearing what's in our hearts.
How Much Time Should I Spend In Eucharistic Adoration?
The bottom line: as much as we can squeeze out for Our Lord who came down to earth to live as a human being and die a horrible death to save us. He suffered unimaginable agony for each one of us because of each one of us. Can we honestly say we just don't have time to sit with Him once in a while? Is what He did for us less important than the weekly football game or the time we spend in our favorite pastimes? Is He less important than the mind-numbing television shows and network news reports, or less important than the "friends" we have on Facebook or other social media?
More specifically, what did Our Lord ask Peter at Gethsemane? "So, could you not watch with me one hour?" (4) So, is that a hint for us? Can we spend one hour a week with Our Lord? That would be ideal—at least one hour a week. But if we can only get away for twenty minutes or a half hour, we ought to do it.
As the author at
Catholic Bible 101
so eloquently tells us, "Adoration of the Blessed Sacrament is one of the best ways to spend time with Jesus. There is so much noise around us these days. Spending a quiet hour with Jesus in humble adoration will bring many graces and blessings to you. Things that you have never even considered before will now be made present to you. Bad things that would have happened to you will now not happen."(5)
And that, my friends, is an understatement!